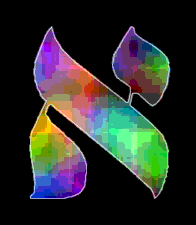 This exhibit is not a part of the original text of The Jewish Religion: Its Influence Today by Elizabeth Dilling. Her book discusses the Sephir Yezirah, but does not contain a holographic exhibit.

A translation of the Sephir Yezirah (or "Yetzirah") has been found at Wolf's Den (http://wolf.mind.net/library/ancient/qabala/sephir.htm), and cached locally against future loss.

This exhibit is discussed in Dilling's text on page 31.