Headlines
@Hopkins
News by Topic
News by School
Events Open
to the Public
Blue Jay Sports
Search the Site

---

Contacting
News Staff
Receive News
Via Email
Resources for Journalists

---

Faculty Experts
Faculty and
Administrator
Photos
Faculty with Homepages
Hopkins in
the News

---

JHUniverse Homepage


News Release
---
Office of News and Information
212 Whitehead Hall / 3400 N. Charles Street
Baltimore, Maryland 21218-2692
Phone: (410) 516-7160 / Fax (410) 516-5251

October 16, 1995
FOR IMMEDIATE RELEASE
CONTACT: Leslie Rice
lnr@resource.ca.jhu.edu
Women in Judaism Lecture at Hopkins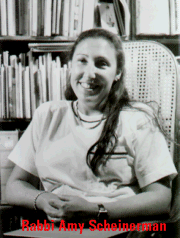 Rabbi Amy Scheinerman will give a talk, "New Voices, New Visions: Women in Judaism," at Johns Hopkins University's Homewood campus on Wednesday, Nov. 1, at noon.

As leader of the Bolton Street Synagogue, Scheinerman officiates at services and life cycle events, provides pastoral counseling and develops religious education curriculums for her congregation. She has also published several books including I Can Read Hebrew, a primer designed to teach children to read Hebrew fluently before they learn to read English, and Learning to Pray, an interactive text which introduces children and their parents to the concepts of prayer, holiness and God.

The talk is part of the Wednesday Noon Series, presented by Hopkins' Office of Special events. All programs in the series are held at noon in the Garrett Room of the Milton S. Eisenhower Library on the Homewood campus at 3400 N. Charles Street. Admission is free.

For more information, call the Office of Special Events at (410) 516-7157.
---