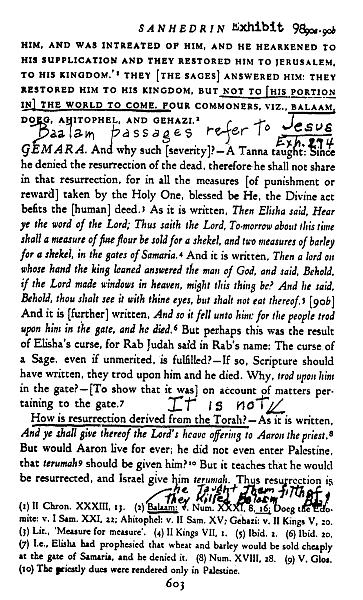 This exhibit is taken from The Jewish Religion: Its Influence Today by Elizabeth Dilling. The underlining and margin notes are Dilling's:
Balaam passages refer to Jesus Exh. 274
It is not ↓
he taught them filth of Baal
They killed Balaam
Holographically reproduced in her book, this page was taken from the Soncino Press 1936 publication of the Babylonian Talmud.
The full context of this exhibit (without marginal notation) can be found in the
NOTE:
Blue highlighting is applied to the words Dilling underlined in the exhibit, thus;
To draw attention to a footnote Dilling underlined, the footnote number in the text is highlighted with violet, thus: 37;
Every footnote reference is hot-linked to the appropriate footnote so that clicking on the reference number brings the footnote to the top of the screen